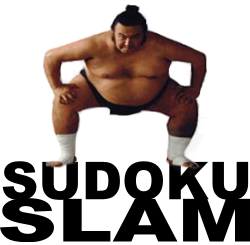 Bill and I have been slaving over this site for months, and we're finally (slowly) releasing it to the public. We think it's (by far) the best Sudoku web site out there… for once, it's more fun to solve Sudokus on the computer than it is with pencil and paper!
We wrote everything from scratch (puzzle generator, hint machine, solver UI, etc.), in javascript, c, perl, and python. It was a lot of fun but also lots of work.
So, if you (a) like Sudokus or (b) like any of my previous LJ posts, please link to this site yourself! Or send it to some friends. I mean, and send it to some friends.
My plea is desperate and shameless: that much javascript should never go to waste.
Of course, site feedback/comments are definitely welcome. Huzzah!